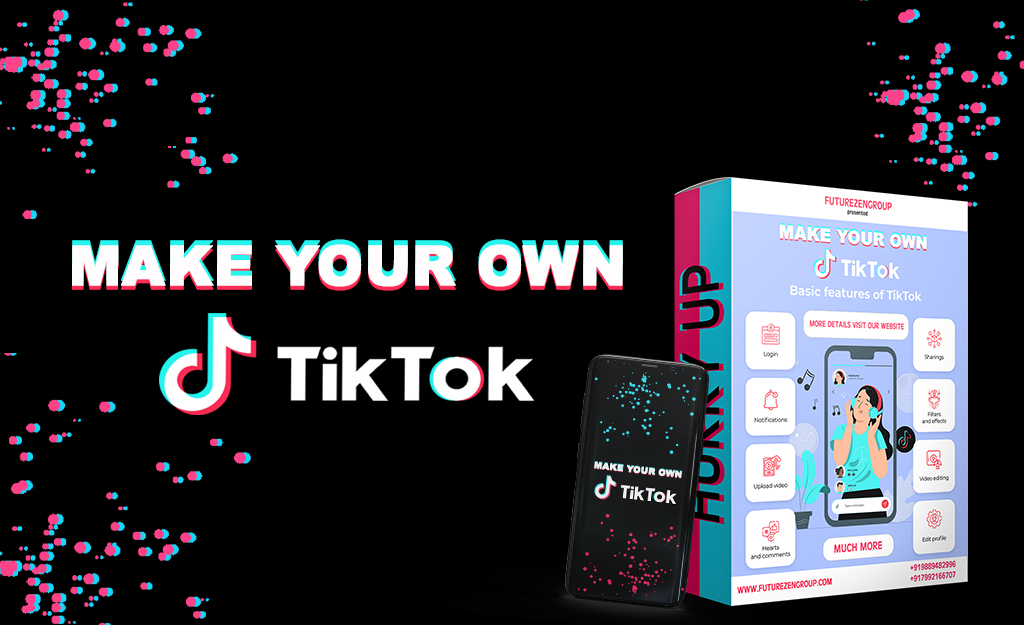 What's TikTok?
It's a social media app where users create and edit their own videos and share them with the world. It enables them to create short-form videos where they lip-sync to background music. The karaoke-like video app is quite fun and entertaining, which is precisely what attracts a growing number of users.
According to Sensor Tower, more than 1.1 billion global users have installed TikTok from Google Play (Android) and App Store (iOS). The video app has more than 500 million monthly active users and counting.
In the first quarter of 2019, TikTok was the most downloaded app in the App Store, with over 33 million installs. Sensor Tower also found that ByteDance, TikTok's developer, has grossed $75 million revenue so far from in-app purchases.


Basic Features

1. Video Uploading
2. Video Editing
3. Filters and Effects
4. Social Sharing
4. Likes and Comments
5. Notifications
Duets
Reactions
Hashtags
Live Video Streaming
QR Code Scanner
Geolocation
Real-Time Analytics
Video Preview (before signing up)
The most notable TikTok features overview
TikTok allows users to interact with each other by following, liking, and re-sharing content. But it also provides users with additional features, including:
Video uploading. Users can upload ready-made videos to their TikTok account, rotate or crop them, and even change the playback speed.
Video editing. Just like Snapchat, TikTok has an impressive toolset of AR effects for changing the color of the eyes, hair, and even adding makeup. There are also many stickers, animations, and masks.
Live streaming. Using this premium TikTok feature, video creators can make live streams and receive virtual goods from their fans purchased with TikTok Coins.
Social sharing. TikTok users can share all their videos edited in TikTok on their Instagram, YouTube, and FaceBook profiles.
Soundtracks. Users can add a favorite song to their short videos from the built-in TikTok library.
QR code scanner. To allow users to subscribe to each other, the app provides them with a unique QR code.
Duet Option. All users, who like to sing, enjoy this feature. TikTok can create a video, add a #duetwithme hashtag, and ask other users to duet with them.
Geolocation. With geolocation, the app displays users currently active bloggers broadcasting live, nearby, in an instant.
Now let us see how to create a music video app and make it profitable.
1. Research your target market
 The first step to your goal is to find out more about your prospective users. For that, you should do the following:
Demographic profile. You need to learn the average age of your users, where they live, what devices they use, and so on.
Behavioral trends. Such trends include decreasing the user's desire to download something, rapidly decreasing patience for slow loading times, low tolerance for lack of security, high value on the app utility, and so on.
To create a better product that will respond to your users' wants and needs, we recommend creating a buyer persona, a detailed portrait of your ideal users.
2. Choose the monetization model 
Now that you better understand your prospective users, you can select the right business model for app monetization from below:
Fundraising
At the initial stage of your project, you can attract investment with fundraising, i.e. collecting money as donations from individuals and businesses. Fundraising is one of earning premium mode even for TikTok. Recently, high-class investors funded the app with $3 billion.
In-app purchase
TikTok allows its users to support live broadcasters with virtual currency, bought with real money. Users can exchange virtual currency or coins for gifts.
Advertising
This app monetization option includes the following in-app advertising types:
Cost Per Click charged each time the user interacts with the ads in their app.
Cost Per Mille charged advertisers for every 1,000 impressions of their ad run the app
Cost Per Action when advertisers pay only for the specified action, such as an app install or newsletter signup